Marketing Flyers are a terrific way for you to announce to your project's parents their child's photo(s) are available to view and purchase. Marketing Flyers are available at No Charge with our Premium Email Marketing service. Your Marketing Flyers are automatically designed on OPS using your project's subject data to create a unique marketing flyer for each person listed in your project. You can sort your flyers to print by any column you posted with your data. (I.e. Homeroom, Teacher, Grade, etc.) Using your Windows Print Driver, you can print your Marketing Flyers on standard 8 ½ X 11 paper or as a PDF for a print shop or copy center printing.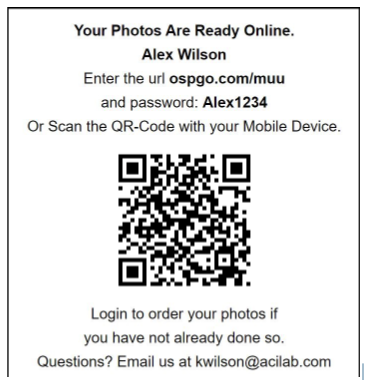 Getting Started
Login to your admin page and then click on the Email Marketing link located on the dark blue bar at the top left side of your screen.

Next find the project you need to Enroll into Premium Marketing and then click on the Enroll Premium button. (Note: There's a $10.00 charge per project to enroll in Premium Email Marketing.)
After Enrolling your project, click on the Options button that is now available to your project.

Now on the Premium Email Marketing page, navigate down to the lower left side of the page and Click on the Print Marketing Slip button.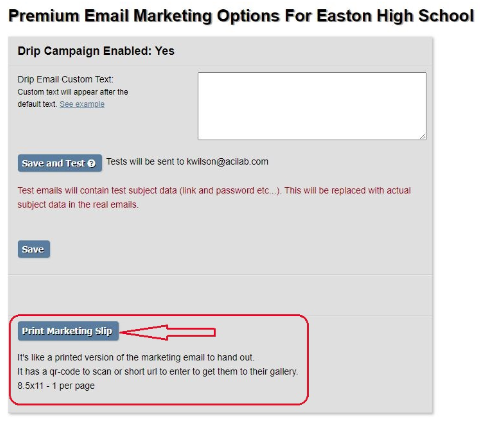 A new 81/2 x 11 Marketing Slip page will open where you can Sort your project's Marketing Slips by first and last name, or Filter by any data column listed in the drop-down window.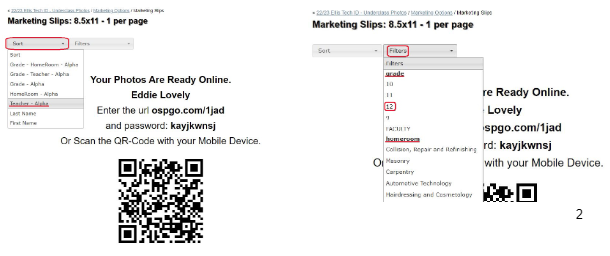 After you have set up the Sorting and Filters for your Marketing Slips, you'll be all set to print your flyers by Pressing on your keyboard's Ctrl & P Keys to activate your Windows Printing program.
(Note if you prefer your Window's Printing App will also allow you to export your Flyers as PDF's so you can have them printed at a Printer or Copy Center.)