OPS's No Print Product (NPP) option allows studios to offer any type of product or service that you would like to sell on our OPS e-commerce websites. Many of our studio accounts have told us NPP's have opened up a new level of sales and profit potential to them because they can offer their customers specialty products and services that are not available in OPS's standard catalog. Typically OPS studios use the NPP option to sell custom items as varied as Yearbooks, Sitting Fees, or Personalized Custom Products such as Banners, Yard Signs, Posters and much more.
PrePay Credits/Package Deposits are our most popular No Print Product option because it can serve two purposes. The first purpose would be to collect a deposit or sitting fee for Volume projects or Portrait Sessions. NNP with Sports and Dance School projects are especially useful for collecting Pre-Payments and collecting data for your shoot. Which is the 2nd reason why NPP's are so popular. No Print Products with PrePay will create a database of all your project orders which will include Names, Addresses, and email addresses. This data can be used to create Barcodes or QR Codes for your project's shoot!
No Print Products can be used as Part of a Package or as a Single Order item.

NPP's are available with any type of project, whether it's a PrePay, Batch/Proof or Individual Re-Orders.

You can offer as many No Print Products you like on any project.

(Such as 1, 2 or 3 different changes of clothing)

Ship to Home or Batch Orders Shipping are available. (Only one shipping service per order.)

Your studio will receive an email notification automatically when a client purchases a NPP from one of your reorder galleries. Email notifications are also sent out when NPP's are ordered on a Proof/Batch projects when the project is sent to ACI for printing. There are no email notifications for PrePay orders. (Emails are sent when your prepay order is converted to a Batch order and sent to the lab.
Getting Started
Setting up a Credit Deposit No Print Product
Please note the No Print Product setup instructions below features a NPP set up of a Print / Package Credit or Sitting Fee. The steps illustrated here are basically the same for any type of NNP you would like to create.
Setting up a Credit Deposit NNP easy…………..
First click on the Pricing and then No Print Product link in your admin page, next click on the Add a No Print Product button.

Now fill in the No Print Product info fields as indicated below and click on the Save button. Then click on The Choose File button in the Product Graphic section.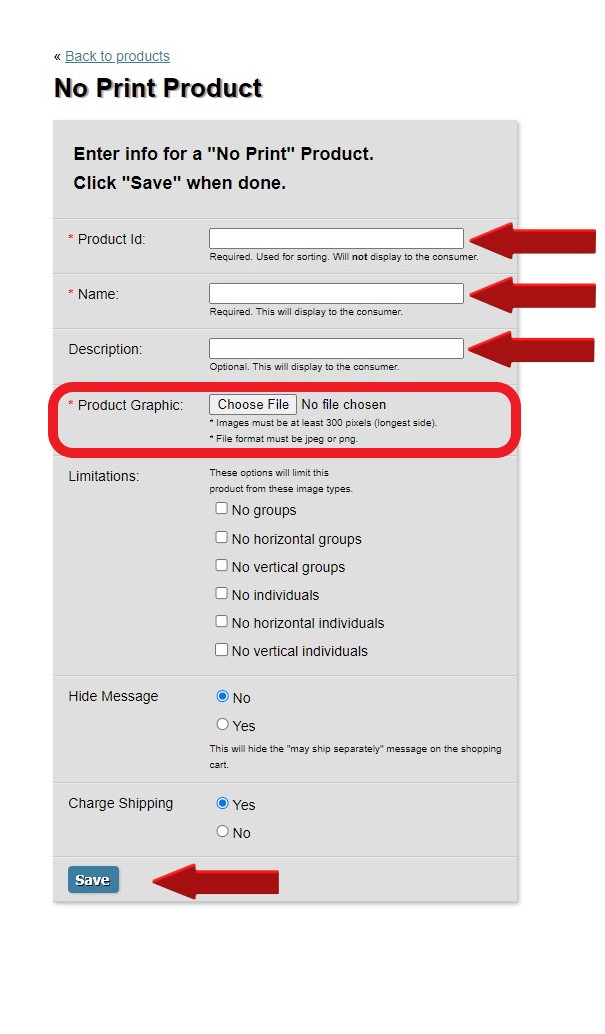 Next select the Graphic you would like to use as your illustration of your Deposit/Credit Product. Then click on the Open button at the bottom right of the browser window.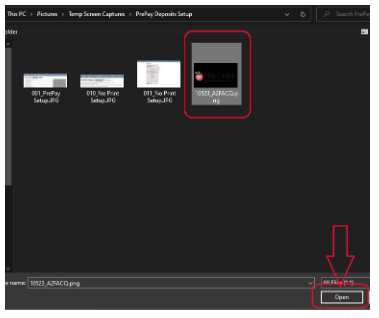 After clicking on your File Browser Window, your No Print Product setup window will open once again containing the file number of your Product Graphic.
Don't forget to Click the Save button to Save your setup!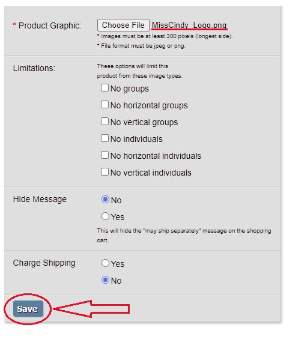 After clicking the Save button, your No Print Product Listing will open so you can confirm your setup. We also recommend you click on the Edit button to make sure the graphic you posted looks correct.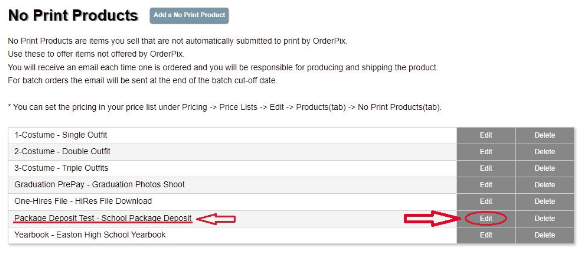 Adding a No Print Product item to your price list.
Now go to the Pricing Section so you can create a new price list for Package/Print Deposits.
Click on the Pricing link and then the Add a Standard Package button.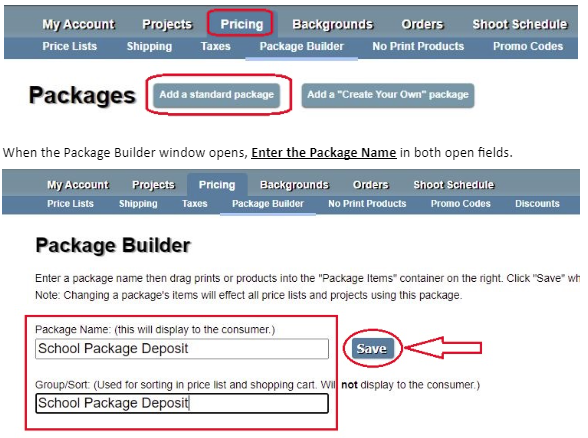 Next Navigate all the way down to the bottom of the Prints Column and then Click on the Products Link. (Note it's a long column!)
At the bottom of the Products Column list (also a long list) you will find your No Print Products. Click n' Drag your No Print School Package Deposit item into the Package Item window.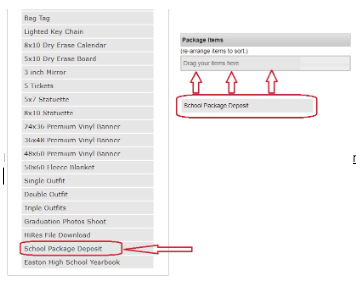 Now scroll to the top of this page and Click on the Save button so the No Print Product will be available to you to add into your packages.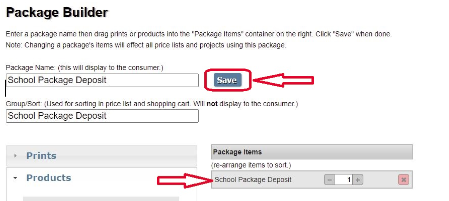 Don't forget to Price your NEW No Print Products!
After creating your No Print Product(s) it's important to remember to do your price list and enter the price you are charging for the newly created No Print Product.
Click on the Pricing link on your Admin Page, then locate the price list you wish to edit and then click on the Edit Button on the right side of the price list's name.

When the next Price List window opens, Click on the Packages Tab and then locate the Package Name you need to price. Enter the price you are charging for the No Print Product and click on the Save Button.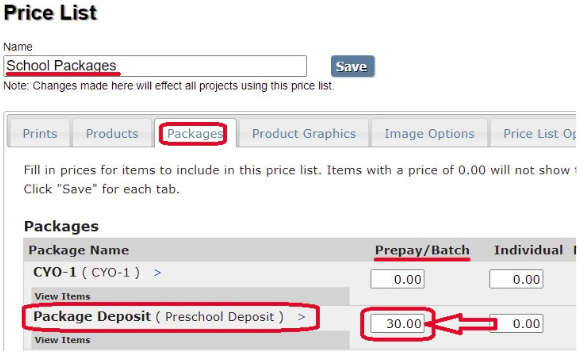 You're all set! After you complete your PrePay Project setup using this price list, we recommend you test the project's consumer side to ensure it looks and works as you expected.
--End--