Making your images look great before posting them on OPS is critical to your studio brand and success. OPS offers three unique file adjustment services to ensure your images are adjusted to the industry's highest quality standards.
How to Order OPS's Image Processing Services can be located by navigating to your Project's Options and then clicking on the Image Processing Tab, then selecting the Correction Method you prefer.
Please note: Be sure to request Image Processing on your project BEFORE uploading your files.
Service Descriptions:
OPS/ACI Color Correction Is perfect for Studios that prefer ACI to handle the color correction of their image files. OPS offers two types of Standard Color Correction, Global and Individual.
Please see the description of each service below.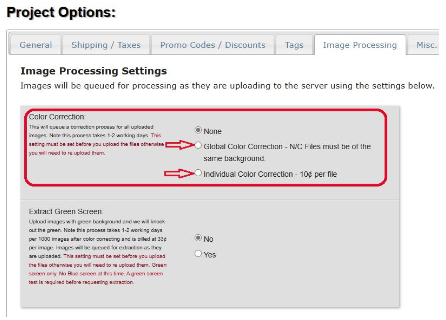 Global Correction is recommended for Volume orders that have been shot on the same background with the same lighting. An ACI Color Technician will inspect your entire order and make a Single Global Correction for all the images in your project. We recommend you review your project first before requesting this service to make sure your project's files are consistent. They do not have to be perfect (although we would not mind), just consistently the same so we can make one adjustment for all your files. Global Color is a Free Service.
Please note: Inconsistent Project Images that are not suitable for Global Color Correction are subject to being automatically moved to our Individual Color Correction Service.
Individual Color Correction
Individual Color Correction is usually requested when a project is shot under a variety of lighting conditions, which results in your files being inconsistently exposed. Our Color Technicians review all your files individually and adjust them (if necessary) so all your file's Color and Density match as closely as possible.
Individual Color Correction charge is $0.10 per file.
Please note: Our Individual Color Correction Service makes every effort possible to adjust your files to be as consistent as possible. However, there are limits as to how much correction can be done. Files that are (extremely) poorly exposed, shot in the wrong Color Space, and/or White Balance may not yield acceptable results.

OPS/ACI Green Screen Extraction service employs 36Pix as our exclusive knockout provider. 36Pix award-winning green screen technology is recognized around the world for its unmatched quality. 36Pix's technology and integration allows us to simplify and streamline our knockouts process for a fast turnaround and optimum quality.
How to Order OPS's Green Screen Extraction Services can be located by navigating to your Project's Options and then clicking on the Image Processing Tab, our Extract Green Screen Option can be found at the bottom of the page.
Please Note: You must "Turn On" the Extract Green Screen button BEFORE uploading your files.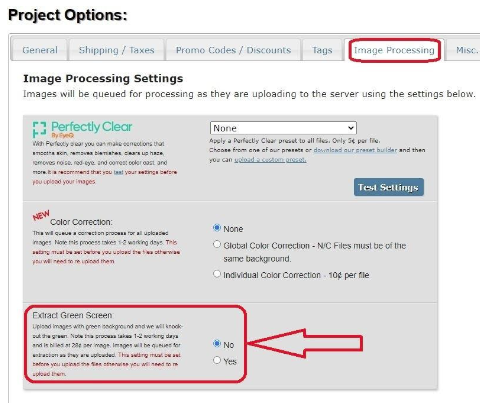 Green Screen Knockouts
Upload your Green Screen Images via OPS by clicking Yes in the Extract Green Screen section of our Image Processing page. We will knock out your file's Green Background and convert them to a PNG file. Normal completion time for file knockouts is 1-2 working days. It is strongly recommended you Test your Studio's Green Screen Setup with us before submitting any files for knockouts. Click Here to review our ordering Green Screen Test Instructions.
Individual (up to ¾ length) Green Screen Knockout Files are priced at $0.33 per file.
--END--