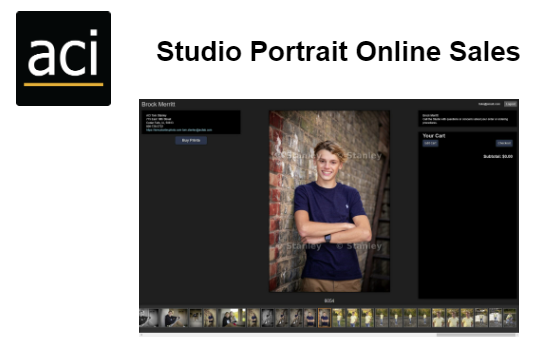 OPS's Studio Portrait services are a powerful Sales, Production, Marketing, and Management tool for today's professional portrait photographers. Studio owners can now centralize their studio portrait management operations by incorporating OPS's unique online options and features. Also because OPS is web based, all your portrait images, storefront sales, order fulfillment, and payments along with project reports and much more are available to you instantly and at any location. If you would like to learn more, checkout our OPS Studio Photography features and options below, we're sure you'll be impressed!
(A note about In-Person Sales…ACI recommends In-Persons Sales and is not advocating you abandon the service. In-Person sales is and continues to be a powerful and successful sales system for photographers to sell portraiture to clients. However if an In-person sales session isn't possible or if you would like to offer additional post sales offers to your existing clients, we think you'll find OPS's online system an excellent additional sales option for your studio.)
High School Seniors & Family Portraits
Features:
Post Portrait Sessions online Manually with No Data or Automatically via our QR Code / Opticon Barcode Image Match systems.

PrePay Sitting Fee with or without Payment Credits

Contact Data Collection on all Orders for future e-commerce marketing.

Self Managed Email Campaigns allow you to control the number of emails your clients receive.

Yearbook Image Tagging with Yearbook Selection Report and Image downloading. (OPS provides you a full report of your client's yearbook selections and their images so you can send them directly to the school's yearbook advisor.) See Page #9 below for details.
Automatic Discounts and Promo Codes options to boost sales. Also Tiered discounting based on the consumer level of purchases.

Pause Order Option for Studio Self Retouching or Placing your orders via our Flex Software

Auto Retouching by ACI's Digital Artists.

Multipose Packages with Print & Digital Files. Also for Green Screen Shooters, Mult Background setup is also available.

Huge Product offerings including Gallery Wraps, Metal Prints, Standouts & Photo Prints.

Choose from volume bulk shipping directly to your studio or school, or ship directly to the parents.

Pay No Commissions or Monthly Fees on your sales, all payments are deposited directly into your checking account using *Stripe payment services.

(* Note Stripe's

Low transaction fees (2.9% + 30¢ are applied to each order.)
Getting Started
Setting up Your Portrait Price List
HS Senior and Family portraiture prices are typically much higher priced than Volume Photography, as a result we recommend you create separate price lists for both your HS Senior and Family Photography. The image below is a screen capture of an OPS High School Senior price list. As you can see OPS's pricing options include Print, Products, and Digital File Downloads.OPS pricing also supports Multiple Pose Packages and for Green Screen Shooters Multiple Background options as well. In most cases you should be able to recreate your existing HS Senior or Family Portrait price lists on OPS for your client's convenience.
(Note: Prices listed are random and are not suggested pricing.)
Click Here for instructions on adding Multipose Packages and/or Multi Green Screen Backgrounds to your Senior and Family Price Lists with or without Digital Downloads. Also covered are Print Mounting, Finishing and Boutique Packaging options. (See sample packages below.)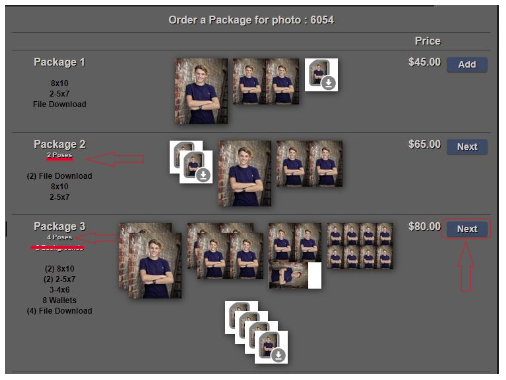 Setting up a Portrait Sitting on OPS
Go to Projects and then click on the Add a Project button
Next on the Add a Project page, fill-in the Highlighted Sections below…….


Don't forget to click the Save button at the bottom of the Add a Project window to complete your project setup.
On the Projects page click on the Subjects button to upload your images to your new project.
When the Subjects window opens, click on the Subjects Actions drop down arrow, now click on the Add Subject Manually line to open the next window.

A new Add Student information window opens, enter your client's First & Last Name along with a Password for the gallery. (Note: A password is required, we recommend you use the client's cell phone number or something else that can easily be remembered by your client.) It is not mandatory for you to enter data on the remainder of the form below.
Please be Sure to Click the Save button when you're done.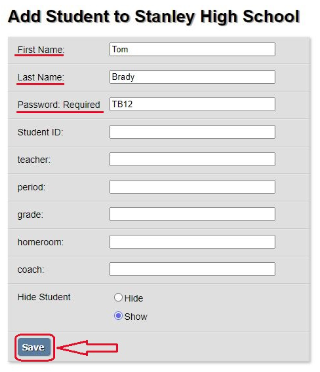 Immediately after saving your Gallery setup, a new Edit Subject Information window will open so you can upload your client's images to the new gallery. Click on the Add Individual Image(s) button at the button on the window.
Your computer's browser window will now open, navigate to the folder containing the images for this gallery. Highlight all the images you would like to upload and click on the Open button on the bottom right side of the window.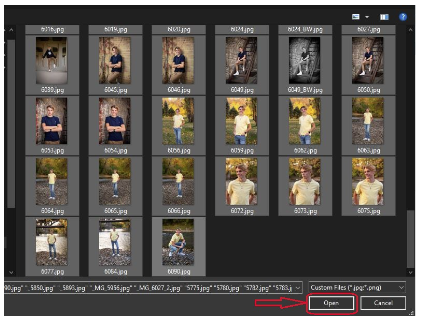 After clicking on the Open button on your images browser page, a new Confirmation window will open giving you one last chance to request your files get individual print quality color correction by ACI. Simply Click on the Individual Color Correction button If you would like ACI color correction, then Click on the Update Project Settings button.
If you're OK with the existing project setting Click on the Start Upload button.
A New Image Uploading Window will open displaying the total number of files you are uploading and the remaining number of files waiting for upload. Please do not navigate away from this page during the file uploading process. For best results we recommend you allow your computer to fully complete the upload process before moving on to another project or program..
After all your images are posted to their gallery, your Subject Info window will automatically open and display all your gallery's thumbnail images at the bottom of the page.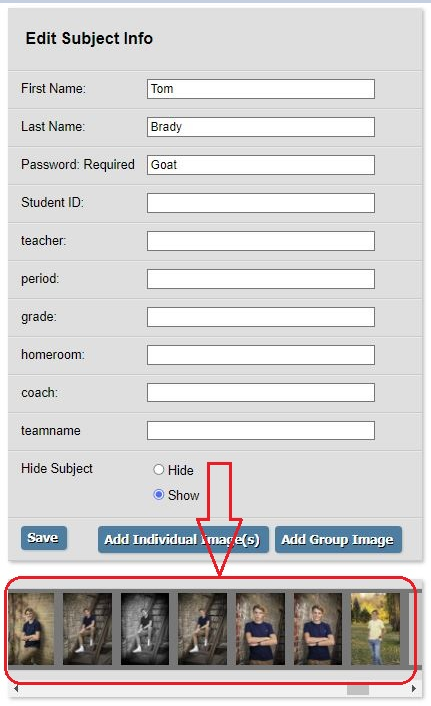 Note: You can edit any image in your gallery by clicking on the appropriate thumbnail image at the bottom of the Subject Information window. A new Edit Image window will open where you can Re-Assign an image to a different subject, Hide an image you do not want to be visible in the gallery, or Download an image for Digital Retouching or Artwork.
Also you can Login to the subject's gallery by clicking on the Login button at the top right side of the window.
Your Project's Subject page will now display all the thumbnail images in your gallery.
The Edit button on the right side of the thumbnails is a quick link to your Subject Information page. The Login button is a quick link to the Subject's Gallery. (You can also right click the Login button to copy the link for emailing to a client.)

We recommend you use the Login link to review your client's gallery and to make sure the images look as expected and the correct price list has been assigned to your gallery.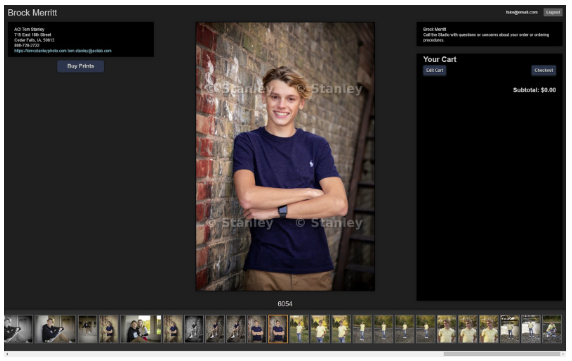 Yearbook and Favorites Image Tagging
Here are a couple of links we think you and your clients will find useful on selecting their Yearbook image and Favorites for purchase.
Yearbook Tagging Reports and Downloads

–End–